New Carousel Baskets and Other Stuff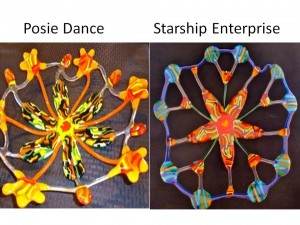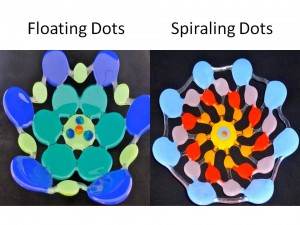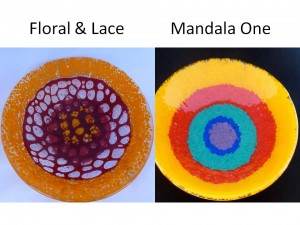 The past eight weeks have been very good for us in terms of people acquiring pieces of our work. As a result, we have had to update the art pieces on our website quite a bit. We've had to remove pieces that have been sold and include new pieces that we've created as well as some older pieces that we haven't shown before. There were a number of new pieces that were picked up, some before ever making it to our website, others being on only for a short time. I never got a chance to feature them in our "What's New" column.
What we are featuring this month on What's New are several baskets created by Bob…that be me. Two new Carousel Baskets have replaced those sold last month. My favorite new one is Posie Dosey Doe (AKA The Posie Dance). The first photo shows the basket. There is a central six petal flower (posie) created from a multicolor pattern bar. It is surrounded in a circle by young posies doing a dance with honey bees. It is a very proper dance with a honey bee and its posie partner bowing to each other as they begin the dance… the dance being the Dosey Doe. The second basket created (shown in the second photo) is the "Starfish Enterprise". The starfish in the center is surrounded by tethered starfish eggs, and floating above them is a blue ring of fish.
In addition to the Carousel Baskets is a new basket design that I call DOTS. Two examples have been added to the website. The one in the third photo called "Floating Dots" is a basket of blue and green "Dots" (glass circles) interconnected by clear glass rods to make the Dots appear to be floating. The other (shown in the fourth photo) is a set of dots that spiral out from the central core. Dot colors go from hot in the center to cool as they spiral out. Rather than create a new category of baskets, we are including the DOT series of baskets with the Carousel Baskets.
Now it's not like Sandy's been letting grass grow under her feet. She has been putting out new pieces as well…some have sold even before we photographed them. One that also sold immediately, but I did get a photo of, is a Floral and Lace piece shown in the fifth photo. It is a stunning design and I eagerly await her creation of some more in that stile. Another design of Sandy's is her Mandala series (concentric circles of color), one of which is shown in the sixth photo. All these new pieces, except for the one sold already, are included in this update of the website.
A number of other pieces have been added including bowls of various sizes and motifs, as well as cheese plates. New jewelry pieces have also been added.
Check out the website to see some of our latest glass art. We can generally accommodate custom pieces in colors that might work better for you, or redoes of a piece that might have already been sold. All pieces are hand done and therefore unique…so, we could only "generally" replicate a previous piece.
Two other things…I was expecting to unveil our glass art application to lighting and mirrors this fall. It is clear that we have been so busy with other glass art creations that we must delay Lighting and Mirrors to Spring. The other thing is that we won't be able to have an open studio sale in December as we originally planned. We will however be hosting Maui Open Studio in February…specifically Feb 22/23.
Aloha….Bob