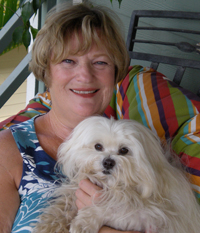 I began my art career over 30 years ago as an oil painter and a potter. My journey has taken many interesting twists and turns as I experimented with various media. My paintings tell a story about the places I have lived, visited and loved. My subject matter reflects my experiences living in the West, the Southwest, the Northeast, and on the island of Maui, and now in Bend, central Oregon. I also gather visual material while on vacation to faraway places like Italy and France.
Ten years ago, my artistic expression expanded to include kiln-formed glass. The boldness of color, reflection and transparency of glass have opened up boundless joy for me as have the endless possibilities of fused glass. I find total harmony in its exploration and enjoy combining Art and Function in my glass pieces. Glass has provided another "canvas" for me.
Although I spend most of my time in our glass studio, I continue to paint. My art, both glass and painting, is energized by the beauty of nature, from Maui most recently to the mountains and forests of central Oregon. I love to translate the color, shape and form of my surroundings to canvas and glass. When I'm painting or forming a piece of glass art, I am inspired. I feel complete joy and harmony… I feel a peaceful and balanced energy. Art has truly become my life's passion! Art is my road to Harmony……. Sandy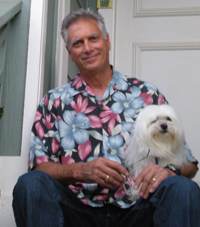 I have dabbled in watercolor painting for over 25 years, taking courses in drawing and watercolor on and off, without a serious commitment to art until mid 2012. I was a full time engineer and manager in the defense industry until being forced to retire in February, 2012.
Evaluating whether to pursue a lingering unrequited passion for art, or new full time employment in the defense industry, I chose to throw myself into the pursuit and promotion of art as an active member of Sandy's business, Art to Harmony. I have been applying my management skills to enhance the business aspects of Art to Harmony… but more importantly, I have been developing my dormant artistic side in the area of watercolor painting as well as fused glass. I have always admired the free style used by impressionistic minimalist watercolor artists, and will be developing and honing that style for myself. I have also been intrigued by Sandy's work in fused glass, fostering an excited enthusiasm for glass art as well. In addition to Sandy's art, the Art to Harmony website will also present my watercolor work and glass art pieces as I continue to transition from left brain analytic thinking to right brain artistic expression…. Bob