What's New?? Lot's New!!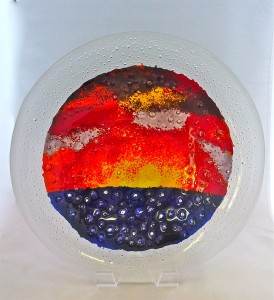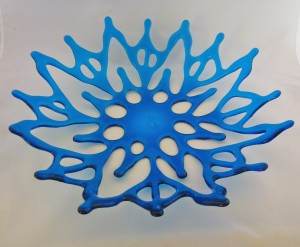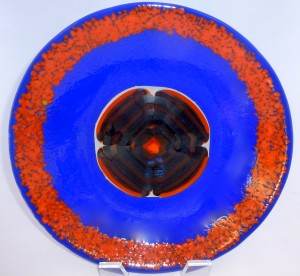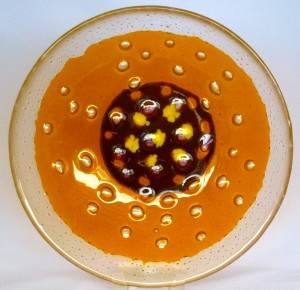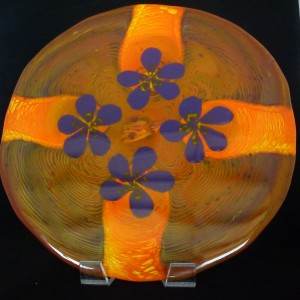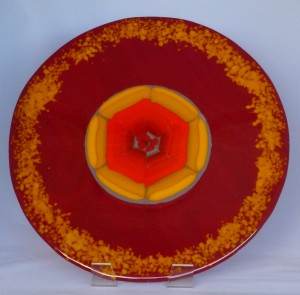 We have been very busy making glass art to have for our upcoming Maui Open Studio on the weekend of 22/23 February. In spite of our kiln breaking down two weeks ago right in the middle of our sprint to the MOS finish line, we have continued to create new pieces as well as stock our inventory. The breakdown that occurred was a failure of one of three relays that feed power to the kiln's heating elements. The relay of course cannot be found on Maui anywhere. It took us a week to get the replacement part from the kiln manufacturer in Florida, totally shutting us down that entire time. I guess someone looking over us decided we needed a break… which we did manage to enjoy after getting over the initial shock. Anyway, as I said, in spite of the one week loss in our kiln firings planned, we have made a number of new pieces, most of which we have included in our website, and several of which are included in this write-up.
The first photo is of Sandy's latest piece called Sunrise/Sunset. This exquisite piece captures in glass the beautiful colors of the Maui sky as the sun falls below the horizon. These same colors are also seen in the Maui sky looking east just as the sun is about to rise. The piece is a bowl sixteen inches across and incorporates Sandy's bubble motif.
The second photo shows a sixteen inch coral basket created by Bob. The glass is a beautiful deep transparent turquoise blue. A second basket of the same design was also done by Bob using transparent orange glass. Both are quite beautiful and can be seen on our website.
The third photo is another piece created by Bob … a thirteen inch bowl using deep cobalt blue and orange. (I guess I was in my "blue and orange" period when I made these pieces. However, I DO use other colors!!) The piece has a unique pattern bar center design. This design feature is floral-like, and can be found in other pieces that Bob is in the process of creating.
The fourth photo shows another bubble motif bowl by Sandy. It is fifteen inches and has a transparent deep purple center with spots of sunflower yellow. The annulus is transparent marigold yellow. Sandy calls this piece "Black Eyed Susan".
The fifth and sixth photos are two other new pieces by Sandy and Bob. The plum and marigold yellow drop pot with plumeria blossoms is a sixteen inch bowl by Sandy. The last photo is another bowl by Bob using his center pattern bar floral technique.
So like I said, "lot's new!!" These six pieces as well as many other bowls, baskets, clocks, and cheese plates have been added to our website. We will be diligent in updating our website this month as we approach our Maui Open Studio weekend 22/23 February. All pieces in the studio that weekend will be offered at a 20% discount on a first come/first serve basis. For those that are off-island and/or cannot make it to our open studio, we will accept discounted phone orders that weekend for in-stock pieces.
Mahalo
Bob L