It's Been a While!!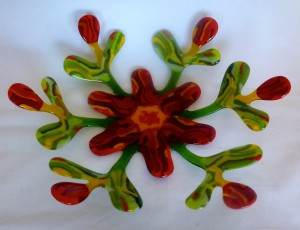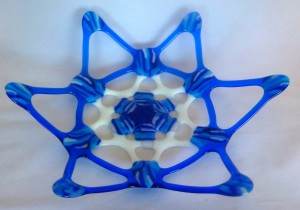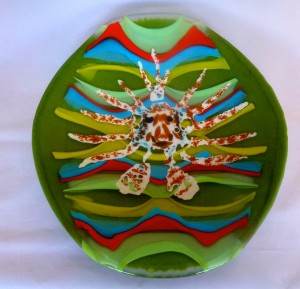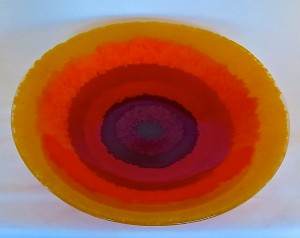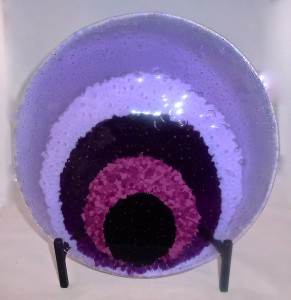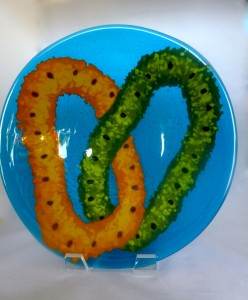 Wow!! It's been a while since we put out a "What's New" blurb… not because there hasn't been anything new… we've just been too busy with glass and life. Not a good excuse, I know. Anyway let me catch you up with some of our newest pieces.
Bob continued on his basket facination. Two of his newest baskets are shown in the first two photos. The first one is titled "Ring Around the Rosie" and depicts 6 posies dancing around the rose colored flower in the center. The second basket is in commemoration of Hanukah. It shows the Star of David in white and blues. Besides baskets, Bob created a fun piece of a Lion Fish staring at you from his ribbon lair. As shown in the third photo, it is an elliptical bowl and can also be found in the Bowls and Platters section.
Sandy has created several new Mandala pieces, two of which are shown in the next two photos. The bowl in the forth photo has seven concentric rings of alternating transparent and opaque glass in the orange to red family. A similar bowl in blues was also created. These are both 16 inch in diameter and can be found on our website under "Bowls and Platters". The other mandala piece shown in the fifth photo is a 13 inch flat art piece of 6 rings of alternating transparent and opaque glass in the purple family, with all rings sharing a common base. This piece can be found under "Sculptures".
In addition to these, Sandy created a couple of bowls with interlaced leis to symbolize Love and Commitment in Hawaii. The one shown in the final photo has the leis on a blue background to symbolize the tradition of throwing the leis into the ocean to predict the couple's return to Hawaii. This sixteen inch bowl is in the "Bowls and Platters" section.
Besides these six pieces, a number of others have been created. Some have sold even before making it to the website or What's New. Others are being added to the website.
Aloha
Bob