Tacos and Caterpillars
Sandy and I have always been interested in expanding our repertoire of glass art shapes. We have been concentrating on bowl shaped pieces using a variety of fused glass techniques (mosaic, pattern bar, drop pot, bubbles, coral and carousel baskets) which are described on our website. We've been wanting to make something taller… more vase-like, and thought that we could make a "tall" version of our tea candle holder. I put TALL in quotes because it is all relative. Our tea candles are 2-3 inches high. So for us, "tall" would be 9-12 inches high. That's about all our kiln can handle.
Being an ex-engineer, and since the glass would be much larger than what we use for the tea candle holders, I felt it would be prudent to do a trial run experiment with a piece of glass we weren't particularly concerned about ruining… and good thing!
We make the tea candle holders by slumping the glass over a steel cup at 1250 degrees. To make the "tall" vase, we purchased a steel canister to get the height and a wider base than a steel cup would give us. The piece of glass we used in the test was a 21×21 inch square. Being so much bigger than the 5×5 squares I use for the tea candle holders, I knew it would slump at lower temperature than 1250. So in my experiment I took a peek at the glass at 1100 degrees to check out its progress. I was in shock. "OMG… it's a taco!! This doesn't look anything like the candle holder shape." The first photo shows a tea candle holder next to the "taco". I shut down the kiln and told Sandy …"it just isn't working… but I don't understand why not!!"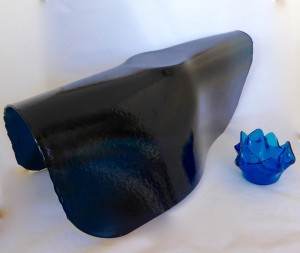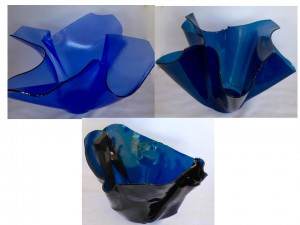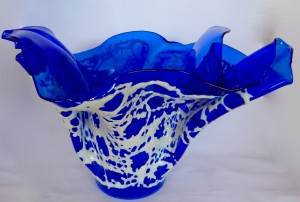 Then I remembered a situation with my father some 60 years ago when he was assembling a crib for my newborn brother. Being very handy, he proceeded to put the crib together without needing to look at the instructions. When he "finished", he stood there with his left hand on his strong chin and with a bunch of hardware pieces in his right hand. "Carrumba!" he said (that's a benign Italian expletive… but I'm not sure exactly what it means) …"What are these for??" So, that memory led me to the conclusion that maybe I ought to look at a book on fused glass slumping!
Lo and behold, right there in black and white was a drawing showing that the first stage of this type of slumping is the "taco" shape. As the temperature is increased, the shape changes, introducing multiple folds. I had never looked at the candle holders mid-slumping. I guess they go through the taco stage as well. What a relief…"there is hope"!
So, we went back to the experiment without a fear of the taco. As the temperature was increased from 1100 to 1250, the taco morphed into interesting shapes as the temperature increased. The three pieces shown in the second photo collage are shapes that occurred between 1150 and 1250.
We were now ready for our first vase. Sandy created a glass lace piece in white that she then tack fused on to a large piece of transparent blue. It was then slumped over our canister to create the stunning vase shown in the third photo.
Hence the title of this blog entry… the taco morphs into beautiful floral shapes just as the caterpillar morphs into a beautiful butterfly.